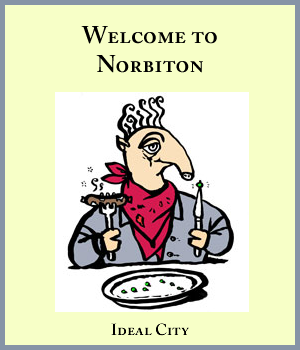 visit

for all your latest norbiton news
Now posted: Spatial
The basic spatial unit of any city is the interior, but an interior space is always in danger of collapsing in on itself: it requires the backbone of a proper desk. And Norbiton: Ideal City is nothing if not a city of desks.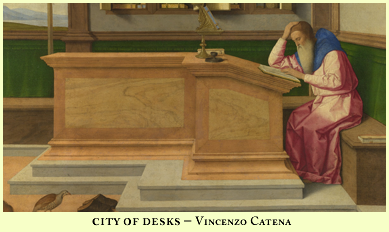 A desk is not a sacred object. It is not made of holy wood, a World-Ash or Tree of Life. There is no spirit inherent to the object, it has no soul, is not a sluice of energies. It is rectangle upon which I set my elbows, nothing more.
Nor is setting your elbows a confession of faith... You set your elbows on your desk while you drink your tea, or type on your laptop, or hold open a difficult book, a book wanting study and notes. To your left and right are piles of paper or other books or things you occasionally need to use – inkwell, scissors, bell, skull, hourglass, armillary sphere, cowrie shell, emblematic vegetable, lion, partridge, peacock – or representations thereof. You can swap these objects in under your attention, in the tripod formed by your elbows and your head. These are the uses of a desk.