footnotes, appendices and apparatus to the anatomy
grouped loosely by subject
15. on various objects
...testify to the artist's microscopical eye.
Van Eyck was an illuminator by training. It seems that his is Hand G in the extraordinary Milan-Turin book of hours.
s
It is hard to believe that he did not do all of his painting with his eyes an inch from the panel, swimming behind pebble lenses.
That is certainly how I prefer to look at them.

men enjoying the company of naked women.
As it is, for example, in that direct descendant of the Fêtes Champêtre, Édouard Manet's Le déjeuner sur l'herbe.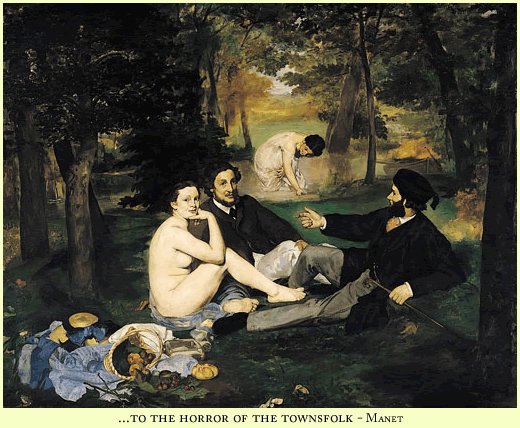 In the Manet the women are real and naked; not ideal and nude. If Giorgione was making a philosophical point, Manet is making a sociological one: men are typically only fully clothed in the presence of smiling naked women in the brothel or artist's studio.

Both paintings are, however, part of the same managed biome; or, more precisely, Manet is taking a hand at managing with fire and oil, so to speak, a biome over which both he and Giorgione and any future Manet and Giorgione must graze their intellectual and aesthetic flocks.
To the horror of the townsfolk.

...a ritual cursus of sacrifice and desire.
On the blood-hyphen, Clarke is quoting Leo Steinberg, who dicusses the trickle of blood which in various northern crucifixions and depositions joins the final wound in Christ's side to his groin in contravention of the rules of gravity, making a typological connection between the final wound and the first – the circumcision.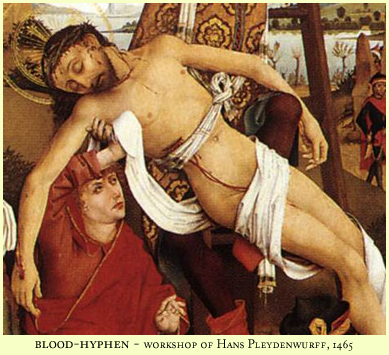 Clarke has a good deal more to say, about menstrual blood and the milk of the virgin, but in the interests of cogency, if not of decency, I won't go into that.
On the ritual cursus, Clarke's route is ahistorical. I very much doubt (from a careful examination of maps I found on the internet) that the road up the back of the Janiculum was there in the sixteenth century. If such a cursus was in Bramante's mind, it would presumably have followed the route along the Via della Lungara, opened by Julius II. But this would have involved some tricky winding at the Trastervere end, up to San Pietro in Montorio.

This is what Kelley is telling me, in so many words: it is time to choose, and to act.
He does not know, however, that Veronica de Viggiani, with whom all my relations now are mediated down flickering digital clouds, has taken an action of her own, and told her husband about her affair with me. This I have lately learnt down the wires.
To be caught in or to acknowledge an infidelity is one way of resolving uncertainty, on all sides. But it is imperfect. You measure the position of the various bodies, but still can only hazard guesses as to their velocity.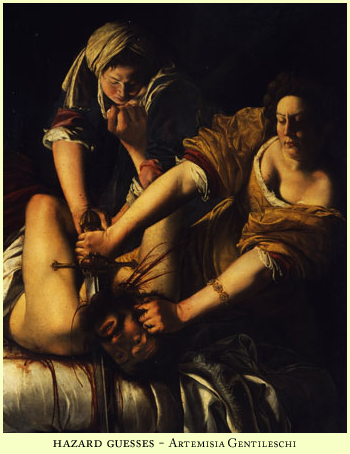 ...evidence of a violent collapse...
The abstracted ecclesiastic was identified as Augustine by Helen Roberts in her 1959 essay (in which she concedes that the suggestion was first made to her by Professor Edward E. Lowinsky). Prior to that, he was (and occasionally still is) identified as Jerome, since he comes at the culmination of a cycle depicting events in the life of Jerome, housed in the Scuola di San Giorgio degli Schiavoni in Venice. Ruskin, for instance, believed that the painting showed Jerome in heaven, of all places.
And perhaps it would be equable to note that he hovers ambiguously between the two figures, a Jerome collapsed into an Augustine, just as the Church in general, prior to the Reformation, could be considered a continual infolding of its myriad constituent elements – not least since the features of the represented saint are generally held to be those of Carpaccio's contemporary, Cardinal Bessarion.

...a simple wooden table...
All desks come from somewhere. We may live in an Ideal City, but there is no such thing as a Platonic desk.

This particular desk was given to Clarke by Isobel Easter. And not only given, but taken out into the sun, stripped back, sanded down, treated for woodworm, primed and painted – eggshell blue, as it happens, not that Clarke will care about the colour – all by Isobel Easter, with some little help from me.
The desk was previously lodged in the Kelley shed, a space I am now opening out and repairing. I plan to install in its place a fitted work-bench at a height suitable for standing and potting. Facing the window, obviously.

...down, down through the surface pattern...
Leonardo da Vinci, long before he plotted to divert the course of the river Arno away from Pisa (1503), spent countless hours sketching the flow of water.
He was interested in patterns of turbulence. Whatever the aesthetic considerations – and he would later, much later, connect his hydraulic studies with dreams of the final deluge, the end of all things – his interest was primarily philosophical: water was one of the elements, standing mid-way in density between earth and air and frequently mixed with both; the mixture of elements went against their nature, and each would attempt to return to its natural level. This could be observed experimentally. Air would seek to escape from water in the form of bubbles, for instance. His drawings of turbulent water, therefore, are nothing more than a visualisation of forces.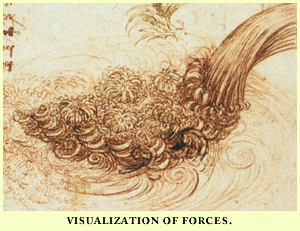 Leonardo's instinct was to see beyond the play of surface detail to the structural or dynamic evidence of organisation below. God was in the disposition of elements, not in their haphazard and local mixing.

constantly re-writing itself, in the register of births and deaths.
In my case, quite literally. I have learnt, and just now divulged to my drinking companions, that Veronica di Viggiani is pregnant with my child.
There is no question of keeping or not keeping the child. This child will come. He, or she, has found him or herself by chance or timing on the right side of a line of demarkation. These things are not susceptible to logic, only to instinct, judgement, circumstance.
This proto-child has thus fallen, for the time being, into one of the two great super-kingdoms of being, overlying even Clarke's Animule, Vegetebule, Minerule: the existing and the mute choirs of the non-existing.