footnotes, appendices and apparatus to the anatomy
grouped loosely by subject
10. on the places of Norbiton
...in my room...
I have lived in a number of rooms in my life – not houses or flats, rooms. Living in a room is a concentrated existence. Concentrated can mean pared down, focussed; or it can mean compressed, seething, adolescent. Certainly the first step of teenagers to independence is often room-living. As an adult, living in rooms, you must take care to move on from this intense and joyless withdrawal. Your room is not your redoubt, your Alamo; it a field of conversation, open to the world.

It can be considered open by means of your computer – your window on many worlds; or by means of your books, music, pictures and other paraphernalia, against which you constantly rub up in a sort of sociable jostling; or it can be considered open because many people pass through it in bodily form, acquaintances assemble there, come and go.

It can also be considered open simply in terms of its physical state. When I lived in Venice my room overlooked a canal. Beyond the canal was a walled garden. Of necessity, because it was hot, I kept my window open most of the spring, summer and autumn, and there was a constant clockwork mechanism of flies picking out geometrical figures in the shady centre of the room; I also had mosquitoes rise up at night like an angry mob by torchlight; and an infestation on my window sill of woodlouse-type crustaceans, the Venetian name for which I have forgotten; and I once moved a bag on the floor and a two-inch scorpion crawled out from underneath.

I am not fond of creeping insects, have a terror of spiders, and cannot abide flies and mosquitoes. The only way I could maintain sanity in such a room was to think of it as an interface with the garden beyond the canal. It was neither interior space, nor exterior space. It was a bower or arbour. I had entered the world of these creatures, not the other way around. And so I learnt to love my room.

My room now creeks with stuff. There is too much. The books alone probably come in at more than one (metric) tonne. I have several hundredweight of compact discs. I have two computers and a laptop. Hi-fi and radio and telephone and pictures, a microscope and a telescope, binoculars, cameras, tools (screwdrivers, spanners, a drill, a wood-plane). It is like a ship's chandler's stockroom, my inventory stacked and piled against the walls and in the shelves and under the furniture and in every anfractuous dimension.

One of my fantasies of survival is that, as money becomes tighter I will start to sell my stuff, bit by bit, item by item; I will make an eBay auction of my life's material superstructure until everything is gone (the computer last of all, like a hungry host at a cannibal feast saving his own head for dessert). I will sit in my room on the floor and experience a sort of infantile zero-gravity.

The impulse to purification, however, is evil and must be countered by the rational will. These things and I are wedded to one another, for good or ill.

It was here that I met Clarke...
Clarke when I met him was already an Apostle of Failure. It was the end of my six-month solitude, or otium, or reconfiguration, of which I have written elsewhere, and he rose up out of the mud of the allotments resembling, not a green man exactly, more a white underground tuberous man,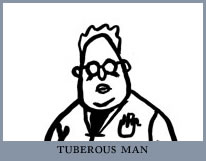 the risen spirit of dark horticultural order blinking in the sunlight. He might have had mistletoe in his hair and I wouldn't have been surprised.
The allotments are arranged like municipal hundreds between the kebab shops of the Kingston Road and the Hogsmill river, and abut the Kingsmeadow football ground (the John Smith's Stand). I had taken one on in a spirit of survival after walking out of my job: growing vegetables was part of the vague subsistence plan, a way of eking out my savings and credit. The previous owner was dead, and when I finally moved myself to come and inspect my plot at the beginning of March, it was a yellowing thicket of matter, stalks and clotted leaves and rotting tool handles and collapsed trellises.
Clarke, whose shed stood in the centre of the allotments like a node of emergency order in a post-apocalyptic Norbiton, came to glower over the chaos with me.

I thought he might be here in some sort of official capacity, might want to show me a book of rules, but instead he wobbled what looked like a wormy bolted brassica with the stub-end of his cakey boot and asked if I had a plan. I did. I was thinking of digging it all over and planting potatoes, a monoculture, a cash crop.
He shook his head and told me I wanted to "go at it with more science than the dead bloke". It was a blighted patch and I "didn't want to fuck about with solanaceae".

And he turned and headed back to his shed, indicating that I should go with him.
Clarke, I know now, worked not only his own plot but the plots of many of his neighbours, whether they knew it or not. He worked them scientifically, turning over strips of ground to different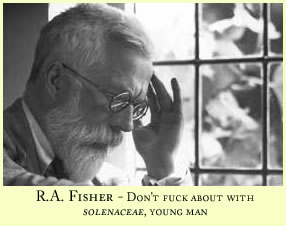 varieties, different manures, different techniques. Like R.A. Fisher at Rothamsted, he excelled, he believed, at drawing incremental conclusions from tiny samples.
In his shed he kept not many tools but a couple of shelves of books and some boxes of magazines, all on horticulture viewed historically and scientifically,  and a desk where he kept up his records of rotation and tillage and yield. His results were not, in fact, spectacular; he claimed later, when I knew him better, that there were historical problems with soil and drainage on the Kingston Road allotments, and that his results were in any case relative, not absolute.
I say that he worked plots, but he was in fact a lazy gardener. His job as a cleaner at Kingston Hospital meant that he generally slouched down to his allotment in between the odd shifts he worked, and intermittently dozed, read, and picked tiny weeds from between his broad beans, enjoying, he said, the silence - the distant, occluded traffic, as though the real world had been left behind down some tunnel, and here he was, alone, on the surface.
Clarke is an autodidact, and he has taught himself to believe in the efficacy of place (locus aptissimus). It is a hotchpotch notion he has cobbled together from classical writers, medieval and renaissance thinkers (Benedictines, Paracelsus), and bolstered with anecdotes from Castaneda and other proto-new-age guff, and is predicated, I suppose, on defunct notions of an ordered, centred universe – a universe with geography. It was for this reason that he had collected about him on the allotment whatever related to horticulture, to gardening.
Clarke waved me into a wobbly old kitchen chair and started to fuss around with wallets of burned DVDs, firing up his laptop and pouring himself a cup of tea from a flask. He cross-referenced an index on his laptop with the DVDs and pulled one out and slipped it into the drawer. While it was whirring up, he thumbed through some hand-written ledgers and handed me one, open at the relevant page, pushing at it with his pudgy fingers and saying, "blighted tomatoes in twenty-oh-three". I looked at the page, at the charts like portcullises, at the illegible annotations, none the wiser.
The DVD was an episode of Gardener's World. Monty Don (his humours dangerously, secretly, out of kilter)
was talking about blight. Clarke scribbled something in a wire notebook with a stubby pencil, like a fat and wheezy doctor. He tore off the page and handed it to me.
Beans, he told me, and some squashes "might do". And a row of potatoes - some sarpos, although I would not get "a decent chip off of them". And a row of King Edwards, as a control.
I folded the scrap of paper and put it in my pocket. And we sat there, Clarke drinking his tea, watching Monty Don in peaceful companionship, as though our day's work were done and done well.

Richmond Park is not a park...
I say it is not a park, but that is precisely what it is: a renaissance deer park.
It is home to emblematic stags and parakeets, ancient trees and wild men. Monty Don, talking of the seventeenth century gardens at Het Loo in the Netherlands, suggests that the garden in early-modern Europe is a celebration of Nature Tamed. This is at best a simplification, at worst a gross inaccuracy. Apart from anything else it fails to take account of the park – the garden did not brush up against the forest, but against managed woodland where game is encouraged to proliferate and is regularly culled in sport.

Hunter Sidney says that when he was a small boy growing up in a Berkshire village his next-door neighbour was an elderly woman called Mrs Kilby. One morning his mother woke him with the news that Mrs Kilby had been up at dawn and had seen a deer on her lawn. Slightly stunned by the news, he envisioned a great stag emerged from the misty forest, perhaps wounded with an arrow, breathing hard, hunting horns away off in the distance.

Fanciful enough, but I have a similar story. When in the early 1980s my uncle lost his job he bought a concession with his redundancy money in nearby Sherwood Forest and chopped wood there, which he sold locally. Like Hunter Sidney I saw him in my mind's eye hewing with an axe in the forest dawn, or traipsing under faggots of sticks, some medieval woodsman.

Both Hunter and I came to realise later in life that the deer was most likely a little muntjac or roe, and that my uncle in all probability had a chainsaw. There were no hunting horns, no Lincoln green. But as Hunter points out, perhaps we should have clung on to the elemental strangeness of our childhood imaginings, because both Mrs Kilby and my uncle in their different ways, in or around the forest in those early hours, must have sensed a peculiar dislocation, the oddity of a secret deer in your garden at the tail end of your solitary widowhood, of finding yourself chopping wood, alone in a forest clearing.

Solomon's library is located above Solomon's bookshop, which can be found near the bottom of the predominantly residential streets between the Coombe Road and the Cambridge Road, nearer the Cambridge road than the Coombe Road. It has on one side of it a dry cleaner's and general clothing repair shop. On the other side is a florist.

Solomon's library and his bookshop are in fact one and the same concern. It would be perfectly possible for a member of the public to walk in, go up the stairs, pull a book off the shelves, take it downstairs and buy it, without ever realising that this had been the violation of a library.

However it rarely happens, largely because Solomon does not really want to sell anything. He opens his shop late and at irregular hours, sits at his roll-top desk in the back absorbed in what we now know to be his particular project. If you shuffle embarrassed up to him to pay your couple of pounds, he looks up at you as though through a dense fog, smiles wanly if he smiles at all. He has the cricket on the radio in the summer, quietly; in the winter occasionally some music, Monteverdi or Palestrina. Always on quietly.

He is descended, I now know, from Cochin Jews, but remotely, all sense of connection or belonging attenuated. He dresses carefully in old twill and polished brogues. If he is an exile, you think, then we are all exiles. And yet, he is an exile.

...has wandered into dell'Aquila's house...
dell'Aquila's garden has a side gate to which he has given me the key. I do not have access to the house unless his housekeeper is present, which she is on this occasion – she brought us out a coffee.

This passing through the back gates of the wealthy hangs somewhere between intimacy and servitude, as though we, Citizens of the Ideal City,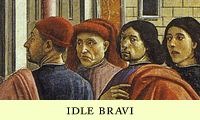 were nothing more than idle bravi loafing on street corners, sometime retainers of the civic elite. But it accords, loosely, with a sense I am recovering (from my teenage years) that the offcuts of the city, the bits that do not fit with the public or at any rate appropriated built space, are in some way consonant with our own project: sullenly resistant to the accidental city, rebellious, disrespectful.

Dell'Aquila's and Kelley's gardens are not offcuts, redundancies; but our surreptitious form of entry links them into our private world of disguised library, remote isolarium, schizoid studiolo.

Isobel, I discover, has not a room but a small system of interconnected rooms on the first floor of the house, of which on this occasion I see one, the defining character of which is encrustation.

It is a reasonably large room, but the proliferation of small objects on shelves, surfaces, and in drawers (I noticed as she rummages for her curiosity) extend its surface area to infinity. This, I take it, is what happens if you stay still for long enough. The objects themselves are unremarkable, and are immediately available to a rough and ready taxonomy:
Books, papers, and correspondence, bundled, stacked and loose
bits of stick, shell, stone, feather (found objects? Natural history?) including five very large beetles (Javanese, Indian, South American) pinned and labelled in plastic display cases
small statuettes and otherwise representational ornaments (a bull, what looks like a lama or alpaca, a Mercury)
some loose jewellery, beads
decorative boxes, various (inlaid, lacquered, fabric-lined, fabric-covered, including one ottoman-like bench)
stationery, including tools (multitool, stapler, a lot of paper clips)
postcards in frames and other two-dimensional representations (drawings, photographs)
A room, then, of barbaric untidiness, or at any rate of dishevelled copiousness of spirit. I think of it, henceforth, as the Grotto.

I should explain this phrase by noting that I have never been particularly good at understanding myself to be in love. In effect, I never really feel myself to be in love with a person, but with what I suppose you could call that person's hinterland – the place that they have constructed for themselves, expressive of their interests, but also of the accidents of their being. Their bedroom, their flat. I experience their places with a peculiar intensity.

The apartment of the Venetian architect was a special case. She had rented it furnished, and, implausible though it must seem, she had not moved a stick of furniture since she moved in – a period of some four years. It was her books on the shelves, her pans in the cupboards, her clothes in the wardrobe, her toothbrush in the bathroom; but she had not, to note a peculiar example, taken down any of the paintings on the walls, nor put up any of her own. It was as though her personal space were made out in scrip.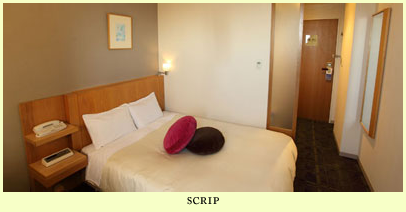 I nevertheless registered an unusually penetrating (and as it turned out, delusional) sense of calm there. Perhaps I felt – as I did now in Hunter Sidney's house - that I was a passenger, in transit, that we were cut off from the world together. Perhaps she stood out more conspicuously against that otherwise neutral foil.

Or perhaps I have just never got the knack of understanding things in terms of themselves. Readings must always be taken on an instrument of some sort.

It should be noted for accuracy that all the while I was with Veronica de Viggiani, Clarke was alternately drowsing and fretting on my sofa; so my sense of escape and refuge had a tangible, not to say rational, origin.

...comparatively free to roam.
Just because you cannot see the walls does not mean that you are not banging your head against them, conceptually speaking: the park is a limited space.
The limits are both physical and conceptual. The wall marks the taxonomical divide: Park : non-Park. Inside the park, the deer belong to the Crown; outside the park, there are no deer.
And not just limited: privileged. To set a boundary is begin to sort those with access and those without. The Virgin has her walled garden, a preserve of holiness; as do saints in Sacra Conversazione: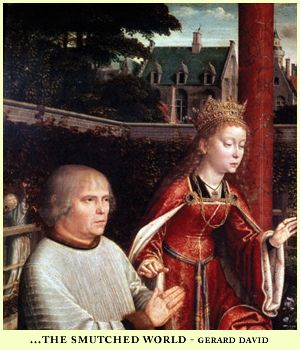 Walled retreats are proleptic of paradise: they are the VIP lounge of holiness. You need a pass to get in. Saintliness may need no protection from the smutched world; but it must be seen to be distinct.