Circumperambulation
of
Norbiton: Grieving City
the second part
We complete our boundary walk some weeks after Hunter Sidney's eventual death.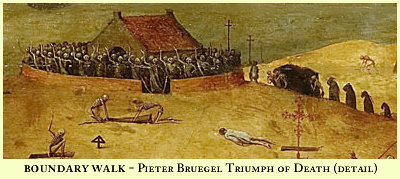 But this is no mere continuation of the first, aborted, circumperambulation. That first circumperambulation was a foundation gesture; this is not. This is commemorative, and commemoration ravels time back up, for a spell. Thus our second route runs contrary to our first, and makes a retrograde (albeit clockwise) progress. Life, says the route we etch on to the map, does not go on.
Clarke in this connection relates that in Ancient Egypt the tombs of the early Pharaohs were laid out in labyrinthine form, a form translated in later dynasties to the mortuary temples which stood alongside the tombs and did much of their ritual work.
Hunter Sidney, he implies, is still treading out his passage to the afterlife; our sombre sarabande or allemande up here on the surface of the earth, dancing across the outermost shell of Norbiton, criss-crosses our friend's own kinked path as it evolves somewhere down below.
Clarke is right. It is our clearly our subconscious hope that, in so crossing paths, we might generate an imperceptible but cosmically significant ampere of current, might yet keep our friend flickering for a few moments more in life of a sort; and thus by the operation of some bizarre cosmic physics at once aid his passage to the underworld and simultaneously, perhaps for our own sakes, retard it.
That Hunter Sidney would have scoffed at all that rich mysticism is irrelevant: ritual and communion with the dead mark out our purpose today, so we embrace it, the eternal entanglement of upper and lower, electron and proton, modern and ancient, Clarke and Sidney, Norbiton and Egypt, the quick and the dead. Here we are for all time: treading out the precincts and involutions of
Norbiton: Mortuary Temple.
WOLVERTON AVENUE — STATION UNDERPASS — HOMERSHAM ROAD
We are set to do a little surface zig-zag as well today, crossing and recrossing the northern Norbiton threshold. We will pass in by the station, then out, then in again, crossing the railway each time, first under, then over, then over again.
But first we will take a coffee at Neville's station coffee shack. The station entrance is a thicket of gates and fences, there are rituals of touching in and touching out to be observed; but these apotropaic gestures relate to an axis of movement (i.e. getting on a train) wholly discontinuous with our own; so we just stand on the
platform and drink our coffee unmolested in the mild and slanting equinoctial sunshine, dispose of the paper cups and their plastic lids, nod to Neville, and begin to walk.
We are five: Clarke, Veronica di Viggiani, Solomon, Emmet Lloyd and me. Solomon was not with us on our first circumperambulation. Neither was Veronica. They take the place of Hunter Sidney, of course, and of Kelley, whom we did not think it appropriate to invite.
To strike and follow the boundary of Norbiton we must first dip under the railway tracks by means of the subway.
In certain seasons the subway is ankle deep in waters. Not today. We emerge, powers of recollection undiluted, on the far side of the station, where Norbiton Avenue kinks into Norbiton proper. Just beyond the day nursery, the little play-limbo, we see looming before us the towers of the Cambridge Estate, smoking (in memory) and Tartarean.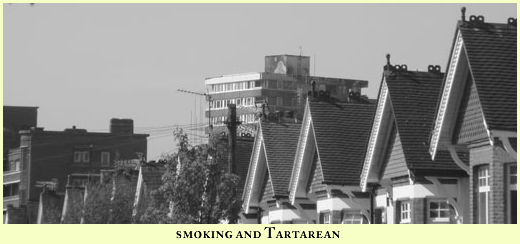 But long before we reach them we tack to the left, into…
HOMERSHAM ROAD — GLOUCESTER ROAD — KENLEY ROAD —ORME ROAD — KENLEY ROAD — DICKERAGE ROAD
Homersham Road. Homersham Road is not a road. None of these 'roads' are roads. They are streets. Roads are thoroughfares: step into a road and you are swept along with migrating whales, off to cold and dark arctic seas. Streets are mere stacks of residence, the open shelving of the civic data-retrieval system, people and cars stored here in semi-stasis.
But on Homersham Road we are nevertheless worming our way inside the body of Norbiton. The road [sic] is lined with small municipal trees. Clarke relates that the streets of certain Mediterranean towns are similarly lined, but with citrus trees. You could if you wished pluck an orange as you strolled. But this is Norbiton: Mortuary Temple; nothing grows here that was not planned and brought and planted by the council; there is no volition of nature.
Homersham Road leads to Gloucester Road where again we turn left, over the railway bridge and out of Norbiton. A representation of a roundabout in brilliant white paint impels us on our vorticose path down Kenley Road.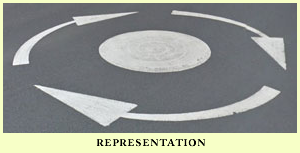 On Kenley Road we pass the entrance to the dead-end of Lambourne Grove, and immediately dip into Orme Road. Orme Road stays closer to the railway line, invisible but controlling away to our right.
Orme Road is a bewilderment of half-timber. Mock Tudor, in its zany conservatism, characterises the street, but generalises the houses. There is, however, a progression: at the Kenley Road/Gloucester Road end the half-timbering is only suggested, a mere inclination to half-timber; as you make your increasingly epileptic progress down the street the black-and-white timbering proliferates, spreads, dominates; by the end, a sort of spectral phase-locking has occurred: all is a rhythmic humming juddering resonant patterning; timber echoes timber in harmonious, if unreadable, hieroglyph; if Hunter Sidney is passing beneath us at this moment, we surmise, his passage will have been cosmically smoothed and accelerated.
A brief return to Kenley Road dispels our momentary access of mystical purity, and, heads spinning more slowly, we arrive at the complex of road signage and small shops which marks the confluence of Kenley Road and Clarence Road with...
DICKERAGE ROAD — DICKERAGE LANE — KINGSTON ROAD
Dickerage Road. Here, at the top of Dickerage Road, Clarke pauses us all for a moment to admire the sub-monumental roundabout, built up in layers, he notes, like a compressed Ziggurat or enlarged clockwise dial of some sort, or, conflating his ideas, a dial to open an inverted subterranean Ziggurat; turned in combination it might, says Clarke, lead down, down, down, geometrically destining us, should we succeed in unpicking it, for the sharp end of creation; note for example, he adds chthonically, how the bottommost layer is a saddle-shaped flexing of square cobbles, a representation of the cosmos.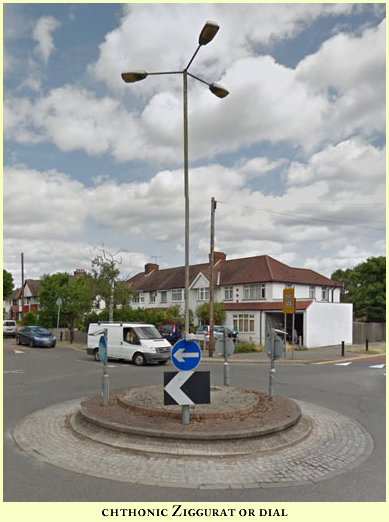 Clarke wanders over to it before anyone can think of anything at all to say, not, as it turns out, so that he can operate the Stygian dial and release our friend from his nether-cursus, but so that he can prop his immense flat white trainer on it while he ties up an errant lace.
No one, yet, has mentioned Hunter Sidney, but Solomon now wonders aloud for us if Hunter Sidney ever made it up this far. Perhaps, he says, remarking on our previous failed navigation, the First Circumperambulation was the only circumstance in a lifetime living on the fringe of Norbiton under which he might have ventured to the roundabout on Dickerage Road. What else could have led him here, to this lost confluence of wholly interchangeable streets? His ghost, Solomon, concludes, is not with us. We have somehow tacked out beyond him. We need to swing back into Norbiton proper now, and pick up him along the way.
There is no answer to any of that. There are corners of Norbiton which even I – cartographer, chronicler, archaeologist and necrologist of the Ideal City– have never seen, and we are anyway not currently in Norbiton. Most of our routes, in space as in life, are repetitions.
As Clarke returns from the roundabout, laced and erect, we are spat off on its centrifuge along Dickerage Road, and into Dickerage Lane. At the entrance to Mount Pleasant Road, Dickerage Road becomes Dickerage Lane, both nominally and qualitatively. Dickerage Road is a residential street; Dickerage Lane, for much of its length, is a narrow shoot of accelerating traffic which runs up and over the railway again by a narrow bridge, rising above residence and railway alike.
Old Sol's mention of Hunter Sidney has opened the sluice of hyperlinked memory. Emmet Lloyd is excitedly telling us about the game of football we all apparently played on the Fairfield Rec the last time we were circumambulating (as he phrases it). Old Sol says he has arranged the little objects and some of the books which Hunter Sidney contributed to our library into a minor rebus of affection, invisible to anyone who did not know the man but legible to those who did. We should all pass by, he says, and read its runes.
Clarke tells a fabulous story about how he came to meet Hunter Sidney in his place of work, the Shell building at Waterloo; he, Clarke, recalls for us that at the time, just back from Rome, he was doing courier work and was directed up to Hunter Sidney on the umpteenth floor with a package for his signature, and as he went he marvelled at the partitioned labyrinth of the vast open floor spaces, how everyone looked at him but no one challenged him as he passed islands of desks because, in his imagination, they all knew he was going the wrong way, that the centre would always elude him; that eventually, finding Hunter Sidney, they fell to talking about labyrinths, and struck up a friendship which lasted in perpetuity.
By now we are passing the Dickerage Lane Rec. and Adventure Playground. We stop and contemplate the brightly coloured play equipment rising like the castles of fairylond over the rusted embattlement of the railings. As we stand there I produce from my pocket for the company to inspect the Etruscan lamp which Hunter Sidney stole from the Villa Giulia museum in Rome, and which Mrs Isobel Easter gave to me with instructions to repatriate. I am yet to act on those instructions for one reason or another, and Mrs Isobel Easter has asked me to bring the lamp along today so that she could be partially present. When everyone has held the lamp for a moment and turned it over in his hands, in her hands, I wrap it again and replace it in my pocket.
On the far side of the railway bridge the road is reintegrated into the residential system of Norbiton. We are back once again in the city of men and women. Pre-fab houses and small businesses and a primary school and mature plane trees line the streets. At the corner of Kingston Road, the end of the Circumperambulation proper, we file into the Prince of Wales for a pint. We are the only customers this early, and we stand there, over the scrubbed black floorboards, in this bleak spare space, silently libating. Our walk done, life, we silently agree, can now slowly start again.
EPILOGUE: Kingston Road — Boundary Close — Fat Boy's Cafe and Restaurant
But there is a coda. As we slip our moorings in the Prince of Wales, we divide. Clarke takes himself over to the allotments (an entrance to the Rec. lies directly opposite the pub), and Old Sol goes with him to pick up some promised vegetables; Emmet
Lloyd turns back down the Kingston Road going out of Norbiton, destined who knows where; and Veronica di Viggiani and I walk along the Kingston Road back into Norbiton. And there at the threshold of the invisible burgh, near enough, we run into Kelley and his dogs. He is standing, an unsmiling sulphurean presence, outside Fat Boy's Cafe and Restaurant, and watches us as we approach. And as we approach, twenty metres short of Kelley, we cross the Norbiton threshold, its boundary stone.
There will be, I am suddenly aware, a test. We were always to be tested at the boundary. It was destined. And Hunter Sidney, I am momentarily sure, is equally being tested in an alternative realm. There is some boundary to pass, some beetle or crocodile to assuage, down there; what we bind up here on the sunlit surface will be bound in Tartarus; and so we approach the smoking demon and his dogs; and he just smiles and nods, at me and his daughter, passing and smiling back in the sun. The dogs are sleepy. No one says anything. Kelley inclines his head to the diner door, and we follow him in, for eggs and bacon and a cup of tea. There are no demons after all all. There are only the quick and the dead, the sunlit and the eternally dark. And in that moment Hunter Sidney's way is unlocked and he is gone, in freedom, to his long home.